Herzlich Willkommen zur 24. Ausgabe von "Wein verstehen leicht gemacht" (WVLG)!
Die Coronakrise hat auch diesen Podcast erfasst, so dass diese Ausgabe entgegen der Ankündigung nicht mit biodynamischen Weinen beschäftigt. Ich ziehe eine bereits letztes Jahr aufgezeichnetes Interview mit MW Nova Cadamatre von großen kalifornischen Weinerzeuger Mondavi vor. Ich hoffe, dann in der Episode WVLG025 über biodynamische Weine sprechen zu können.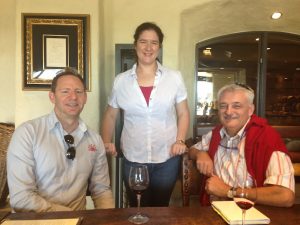 Ich hatte Nova bereits vor ein paar Jahren auf einem gemeinsamen Ausflug nach Napa mit meinem damaligen Kollegen MW Frank Röder kennen gelernt. Damals hat sie gerade mit der Ausbildung zum Master of Wine (MW) begonnen. In der Zwischenzeit konnte sie den begehrten Titel erwerben. Deshalb spreche ich zunächst auch mit ihr, was der Titel für sie bedeutet, was einen MW auszeichnet und was der Unterschied zum Diploma in Wine and Spirits ist.
Anschließend verkosten wir gemeinsam einige Weine aus dem Sortiment vom Mondavi; inklusive dem Flagship Wine "To Kalon"!
Ich bedanke mich ausdrücklich bei Nova und ihrem Mitarbeiter, dass sie sich so lange exklusiv für mich Zeit genommen haben!
Mit genussreichen Grüßen
Euer Florian
(Weinakademiker | WSET Diploma in Wine and Spirits)